Camp Life!
Camp Health, Hope & Happiness exists to provide outdoor recreational, residential summer camps to children and adults living with every type and degree of physical and mental disability.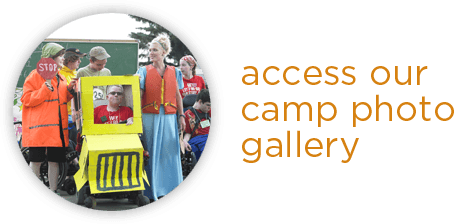 types of camps
Every year over 750 individuals with disabilities access the programs that Camp Health, Hope & Happiness offers each summer season.  From the months of May through August  10 programs are held with each of them being 6 days in length offering programs for the following   groups of campers.
Teens & Children with Mental Disabilities (6-17 yrs)
Teens & Children with Physical Disabilities (6-22 yrs)
Young Adults with Mental Disabilities (18-30yrs)
Adults with Mental Disabilities (31-57yrs)
Adults with Physical Disabilities (23-57yrs)
Seniors (58+ yrs)
For many of the campers who attend the programs at Camp He Ho Ha, it is an opportunity they look extremely forward to that only comes once a year.  For parents and caregivers Camp He Ho Ha offers an opportunity for respite from the continual care that often an individual with disabilities can require.
activities
The following are the summer programming areas available to all campers during their camp experience:
POOL – swimming and water games
PERFORMING ARTS – drama, dance, self-expression, sports & leisure, games, skits, singing
ARTS & CRAFTS – pretzel making, baking, friendship bracelets, bird houses, plaster of paris items, leather items, papier mache items, pencil holders, collages, banner & flag making, posters, tie dying, and much, much more
WATERFRONT –  canoeing, fishing, archery, mini-golfing, barge rides, bannock making
CAMP OUT – overnight camping in wall tents, campfire, s'mores, campfire songs
SPECIAL EVENTS & EVENING PROGRAMS – campfires, sing-songs, dances, scavenger hunts, wide games, skit/talent nights, tractor rides (wheelchair accessible), mini-olympics, etc.
CLIMBING WALL & ROPES COURSE – activities for summer camp include:
• 40' – 3 sided climbing wall
• wheelchair accessible low ropes course
The information provided for the activities is a very brief description. Each program provides a very great range of activities and all programs are adapted to meet the special needs of the individuals in each group.
Visit our Summer Camp links by clicking on the CAMP LINKS below. There you can learn more about camp life, camp schedules and so much more! If you have any questions feel free to contact us:
Summer Camp Coordinator
Phone: (780) 429-3277, Ext. 240
Email: coordinator@camphehoha.com