Quick Links:
Employment
Summer Job Opportunities
"I thought I was coming to camp to make a difference in the lives of people with disabilities. These people ended up changing my life forever, allowing me to see how beautiful each and every individual is; allowing me to see beyond any "disability", to the true ability in everyone. Working at Camp He Ho Ha has taught me more about life and all it has to offer than any formal education ever could."
Kandis Morneau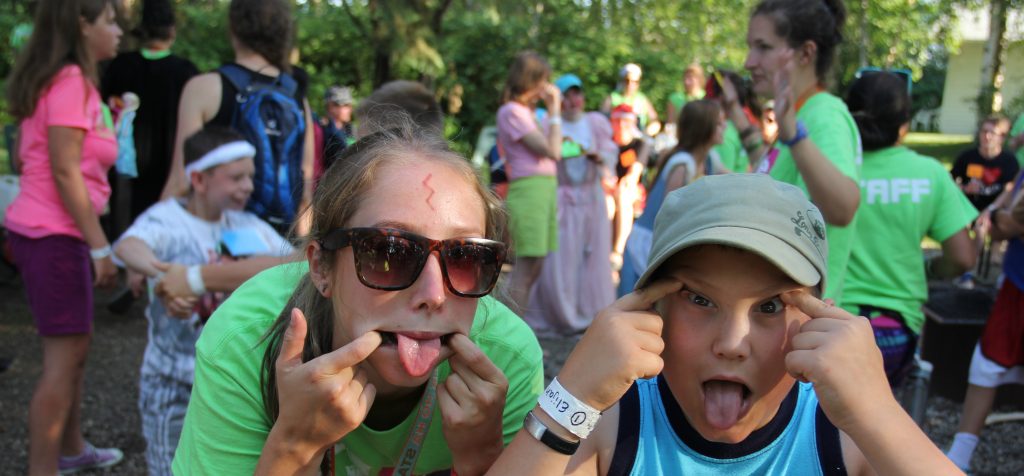 Each summer Camp Health, Hope & Happiness employs enthusiastic University / College students from across Canada in various fields of study to provide personal care, programming and medical care to our special campers. Our elite team of counsellors are selected on the basis of skill, leadership, and passion in working with individuals with mental and physical disabilities.
Prior to camp, all of our exceptional summer camp staff attend a mandatory extensive orientation which includes: personal growth, communication & team building, dealing with behaviours, lifts & transfers, emergency procedures, fire safety, legal & liabilities, camp philosophy, sessions re: individuals with mental disabilities, individuals with physical disabilities, caring for people with disabilities, familiarization of all programs areas, training on climbing wall & ropes courses, and more! This in depth training provides summer staff with the information and unique skills required to successfully provide the high quality level of care required for and delivered to campers.
Applications will open on December 1st, 2021.
*Please review each summer job position and submit your online application by February 18th, 2022.
MEDIA/ASSISTANT COORDINATOR (1 position)
May 4th – August 19th, 2022
REGISTERED NURSE (1 position)
May 11th – August 19th, 2022
3rd YEAR NURSING STUDENT (1 position)
May 11th – August 19th, 2022
ARTS AND CRAFTS RESOURCE (1 position)
May 11th – August 19th, 2022
BARGE DRIVING RESOURCE (1 position)
May 11th – August 19th, 2022
CLIMBING WALL RESOURCE (1 position)
May 11th – August 19th, 2022
COUNSELING TEAM LEADERS (5 positions)
May 11th – August 19th, 2022
COUNSELING LIFEGUARDS (2 positions)
May 13th – August 19th, 2022
CAMP COUNSELORS (30 positions)
May 13th – August 19th, 2022
COUNSELING CLIMBING WALL ASSISTANT (1 position)
May 13th – August 19th, 2022
Already have an account? Sign in HERE
If you have any questions feel free to contact:
Summer Camp Coordinator
Phone: (780) 429-3277, Ext. 240
Email: coordinator@camphehoha.com