Quick Links:
Sunny's Supporters
Meet Sunny, the Camp He Ho Ha Mascot. Sunny is a beloved friend to the Camp He Ho Ha campers and can often be found doing his favourite things: watching campers on skit night, riding the barge and giving high-fives and hugs.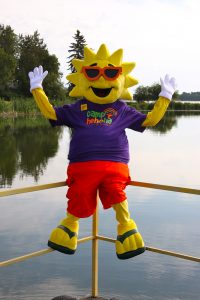 Sunny's Supporters is a fundraising contest where campers raise pledges to be recognized on our wall of fame and can qualify to win their camp registration for the following summer. By contributing to Sunny's Supporters not only can you win your camp registration, but you are helping grow Camp He Ho Ha and ensure other campers can experience the magic of our barrier-free summer camps.
Sunny's Supporters who include a donation of $50 or more will be entered into a draw for FREE registration to one of the summer 2021 camps. Each additional $50 receives an additional entry ($100= two entries, $150= three entries, etc). By making a minimum donation of $5 you automatically join the ranks of Sunny's Supporters on the Wall of Fame at camp. For more information please refer to the official contest rules.
Sunny's Supporter's – Contest Rules
Sunny's Supporters – Pledge Form (2020)
The official winner of the 2020 Summer Camp from their donations in 2019 is Emma Picco!
You too can be a Sunny's Supporter! Get your pledge forms in now to win your camp registration for next summer and other great prizes!