Quick Links:
Care Givers
Camp He Ho Ha offers an opportunity for individuals with disabilities to enjoy an adapted recreational experience in a safe and supportive environment. Just as importantly it offers a much needed break for parents and caregivers. Helping caregivers make an informed decision on summer camp is important to us, as well as equipping returning caregivers with information on how to prepare and what to expect while their camper is at camp.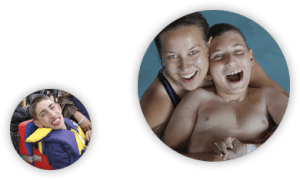 24 Hour Health Center
There are two nursing staff assigned to our Health Center on a 24-hour basis to serve the needs of our campers and staff. These nursing professionals operate a well-equipped medical center ensuring the well-being of all campers, accompanying aides and staff on site.
A modern hospital is located 30 mins away in Stony Plain and EMS is stationed 20 mins away in Evansburg; response times vary depending on their location when called. All summer staff are certified in First Aid and CPR and are familiarized with Camp's patterns and routines of safety.
Camp Meals & Nutrition
The overall camping experience is further enhanced by a dedicated group of kitchen staff that are constantly striving to provide a high quality dining experience. Camp He Ho Ha serves three delicious, nutritious meals a day plus an evening snack. All meals are appropriately balanced to meet the active needs of our campers. All special diets and food allergies are accommodated.
NOTE: Camp He Ho Ha observes a peanut-aware policy.