Accommodations
Camp He Ho Ha offers two types of very comfortable accommodation allowing groups the choice of either hotel style rooms, dormitory rooms or a combination of the two.  All accommodation is situated around a center courtyard providing either a courtyard view or lakefront view.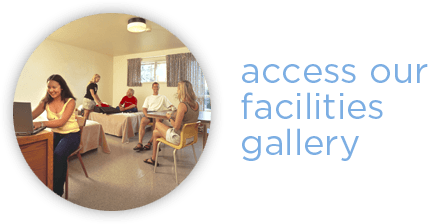 Private Rooms:
24 hotel type rooms each with a double and single bed
11 of the 24 with an additional top bunk bed
Self-contained washrooms with bath and/or shower
All units are wheelchair accessible
Rooms with small fridge available
Linen provided
Dormitories:
Each dormitory will accommodate 15 – 16 people
Each have single beds
Communal washrooms in each dormitory with two showers, three toilets stalls and three sinks
All units are wheelchair accessible
Choice of linen or no linen
** All guests are required to bring towels and personal care items **
meeting and conference rooms
Camp offers several modern, bright meeting rooms suitable for a variety of purposes. These venues range from small lounges for up to 20 people to the large Recreation Hall which will accommodate 200 people.
Recreation Hall:
Will accommodate 200 people
Spacious with high open wood beam ceiling
Large flat screen TV
Two pianos (Baby Grand and Upright)
Large fireplace
Sink, microwave and fridge
Shuffleboard and table tennis available
Adjacent to washrooms & dining hall
George Kidd Lounge:
Total 20 to 45 people, depending on seating arrangements
Wall mounted white board
Sink, microwave and fridge
Convenient indoor access to 12 hotel style rooms and 2 dorms
Fireplace
Self-contained washrooms
Panoramic view of lake
 Arts & Crafts Lounge:
Total 20 to 45 people, depending on seating arrangements
2 Sinks, microwave, stove and fridge
Convenient indoor access to 4 hotel style rooms and 2 dorms
Self-contained washrooms
Small Lounges:
Three lounges available
Total 20 to 25 people in each lounge depending on seating arrangements
Blackboard in two lounges
Fireplace in each lounge
 Chapel:
Total 25 to 125 people depending on seating arrangements
Open floor space – no running water
Microwave and fridge
Quiet and private meeting space
Bates Point Building:
Spacious heated area situated close to lake
Accommodates small to medium sized groups
Indoor washrooms
Rental Equipment Available:
TV/DVD's available in all meeting areas
Portable Screens
LCD projector
Flipcharts / Whiteboards
Visit our Retreat links by clicking on the RETREAT LINKS below. There you can learn more about accommodations, activities, prices and so much more! If you have any questions feel free to contact us:
Bobbi Olson
Phone: (780) 429-3277, Ext. 234
Email: bobbi@camphehoha.com